African Honey Bee
Sustainable micro-beekeeping as an economic activity in rural communities in Limpopo, Mpumalanga and KwaZulu-Natal
Discover this growth program...
African Honey Bee (AHB) is a social enterprise that supports families in disadvantaged rural communities in starting up sustainable microbeekeeping businesses. On the global level, there is great demand for honey products, in particular products that meet quality and fair trade standards. The population living in the vast rural areas of South Africa is in great economic need. Setting up family honey business in these areas not only has an economic impact, but also has a positive impact on local nature through pollination and improved agricultural yields. In addition, AHB has a huge positive environmental impact by preventing the practice of 'honey hunting'. Honey hunters collect honey from wild beehives, using fire and smoke in an uncontrolled way to stun the bees and therefore causing frequent forest fires. AHB joined a sustainable partnership with a private company in the region, the Sappi plantation, which focuses on training people to keep bees in a responsible manner, providing an extra income and safeguarding the Sappi's plantations from fire – a win-win situation for every stakeholder.
AHB is an independent initiative that gives to hundreds of local families the opportunity to market their honey through the AHB beekeeper trust cooperative. Over the past two years, AHB has trained 1200 beekeepers in Limpopo, Mpumalange and KwaZulu-Natal. 425 families have become active beekeepers, producing and selling honey. The effects of AHB training courses go beyond just developing new competences for the rural population. Promoting entrepreneurship gives self-confidence and empowers the communities involved.
The AHB model design aims to generate positive effects on the 3 p's (profit, people and planet) by stimulating:
- The development of sustainable micro-enterprises
- Food Safety
- Capacity-building
- Poverty reduction
- Biological agriculture
- Biodiversity protection
- Strengthen agriculture by spraying
- The design of niche markets for export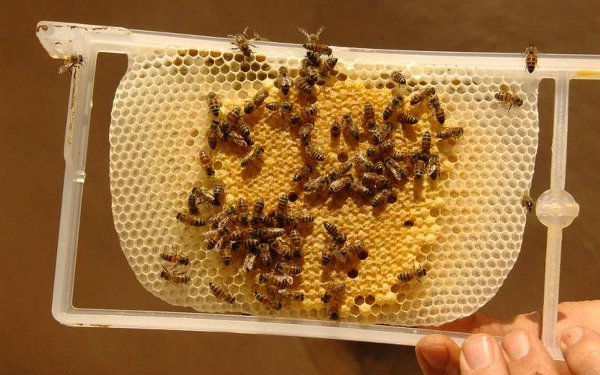 Exchange and African Honey Bee worked together for the first time in 2015. An expert in apiculture supported the company in the introduction of the most recent and most environmentally sustainable production techniques. The adoption of excellent beekeeping practices resulted in a strengthened training programme for the communities involved.
Attracting social investors to achieve inclusive growth
After this collaboration, AHB continued to grow. At the end of 2016, the contacts between AHB and Exchange have been strengthened again. At that time, the two partners already started thinking about an long term approach. The needs of the company are diverse: in addition to the technical needs in the field of production technology, there are challenges in several other areas (strategic management, marketing, packaging, certification and distribution). The management of AHB set up a plan to triple the current number of beehives in-house over the coming years. The company is therefore looking for social investors to support further growth. To this end, Exchange have set up a collaboration with Benevolab Belgium, the CSR programme of BNP Paribas Fortis that gives bank employees the opportunity to contribute as volunteers to NGO projects in the South. Two experts from BNP Paribas Fortis Belgium conducted a financial analysis of the company in May 2017, and an investment plan was redacted on the basis of their analysis.
 In Belgium, Exchange started discussions with
Kampani, a Belgian social investment fund, aimed at strengthening companies in the agrofood industry in the South. In the first half of 2018 Exchange plans to further strengthen this cooperation in order to arrive at a well-developed investment file that meets the questions of Kampani and / or any other social investors regarding the commercial operations of AHB. In addition, we are working together to raise cooperative funds around AHB Beekeeper through resources that are made available through national and international development initiatives. If funds are successfully found for this ambitious expansion, Exchange is ready to start a process together with AHB to tackle the next steps in the development of the company with a focus on marketing and in-house packaging.
Development of a structural partnership
To realize this growth program and to guarantee its sustainability, Exchange is working on setting up a structural North-South partnership. Attracting investors is essential for the company to grow further, and therefore a strong financial partnership has been created. Its core objectives are:
1) Supporting AHB in developing a realistic investment request
2) Making the business case of AHB in Flanders known to potential social investors, realizing a proper due diligence
3) Setting up a broader support program for the company over different business processes and thus achieving an intense guidance.
4) Leasing with Belgian organizations for funding social smallholder programmes.